Now that the US Dept of Education has released additional funding for higher education under the Coronavirus Response and Relief Supplemental Appropriations Act of 2021, supplementary to the original Coronavirus Aid, Relief, and Economic Security Act (CARES) of 2020, public and non-profit colleges and universities have access to federal funds which can be used for supporting certain institutional operations. Institutions can now apply for HEERF II funding if they did not receive HEERF I funding. Under HEERF II Public and Private Nonprofit Institution (a)(1) Programs, at least 50% of funds must be committed to student aid. Institutions can use the remaining funds not committed to student aid for:
Defraying expenses associated with coronavirus (including lost revenue, reimbursement for expenses already incurred, technology costs associated with a transition to distance education, faculty and staff trainings, and payroll), and
Carrying out student support activities authorized by the Higher Education Act of 1965, as amended (HEA), that address needs related to coronavirus. For example, (a)(1) institutional funds may be used to support the transition to virtual activities, purchase PPE, or support other innovative learning methods that would allow an institution to engage in student support activities authorized under the HEA during the COVID-19 pandemic.
However, "no supplemental Institutional Portion awards or new Institutional Portion awards may be used to fund contractors for the provision of preenrollment recruitment activities; marketing or recruitment; endowments; capital outlays associated with facilities related to athletics, sectarian instruction, or religious worship; senior administrator or executive salaries, benefits, bonuses, contracts, incentives; stock buybacks, shareholder dividends, capital distributions, and stock options; or any other cash or other benefit for a senior administrator or executive."
Given these restrictions, colleges and universities must wisely plan the use of available funds and transparently track pathways to achieve their goals. An integrated cloud-based software platform such as Strategic Planning Online (SPOL), available 24/7/365 to administrative leaders, is an ideal resource not only during the COVID pandemic but also looking forward for ongoing planning with other initiatives. The platform can demonstrate how one project or process could impact another project, which would in turn potentially avoid unwanted duplication of services, compare line-item requests between projects, and improve budget allocations. The following example will show how SPOL's Planning and Budget Modules are helping institutions manage project budget allocation.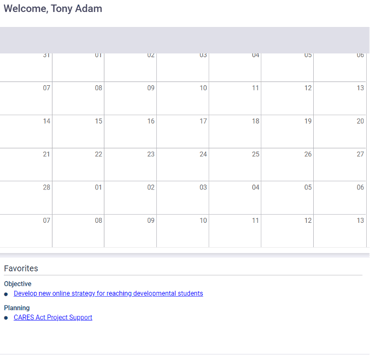 Access to SPOL and its individual modules is permission based, as determined by the institution. Based on permissions, users can either create, edit, or only view work in progress. When the project manager creates CARES as a planning unit, he grants access to other college personnel involved in the project. Those members can then create specific objectives toward budget allocation:
To demonstrate, we've created a Planning Unit entitled "CARES Act Project Support" (shown above). That new Planning Unit can host an unlimited number of objectives – specific projects to be tracked. Each Objective is posted separately, so Objectives can be worked on simultaneously: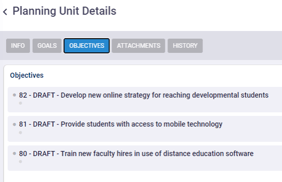 Each Objective in turn can capture progress reports, demonstrate connectivity to the institutional strategic and other plans, and create enhanced budget requests for each Task to move the Objective forward. In this example, we've selected "82 – Develop new online strategy for reaching developmental students" (note that all labels can be altered to use local terminology). On the "Results" page, the project member completes a series of narrative fields to address stages of the report.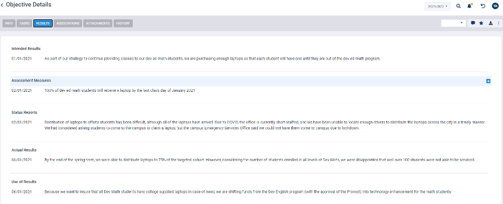 A member can also inform another planning unit that a new objective can impact activities of that unit. The other planning unit is notified about the objective and can respond accordingly: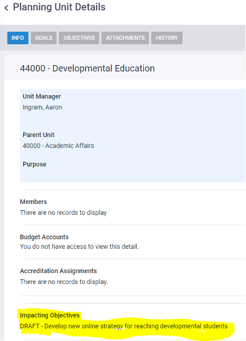 Objectives are further divided into Tasks - steps needed to accomplish the objective. These Tasks are important for tracking initial allocations per line item, such as travel, equipment, PPE supplies, etc. The member can set a base budget per line item, and the system captures each specific request made against that base. Institutional officials can then review all requests for funding and approve, deny, or alter the requested amounts. The process is not designed to replace the more robust financial system the institution already has in place but rather is useful for demonstrating how project plans align with strategic and other plans.
As the Planning and Budget Modules work in tandem, a member can create proposed and enhanced budget requests for each Task. The member starts by selecting the appropriate Task requiring funding: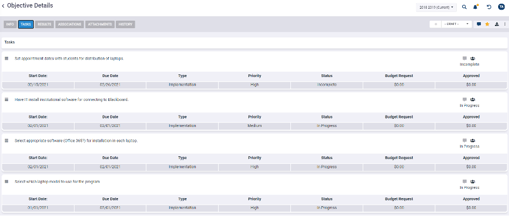 Then makes the request, tying the amount requested to a specific account and GL (general ledger) code: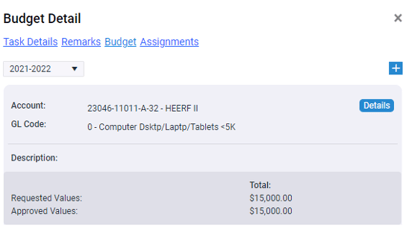 Institutional leaders can then review the request and either approve, deny, or emend the request. The request and approved figures appear on the Task field and also on the Budget page.
If desired, members can run reports showing project links to the strategic plan, status reports per objective, and financial reports by general ledger code. These reports are maintained in the system until the institution purposely deletes them.
As the world continues to evolve in the wake of COVID-19, it's clear that for higher education, planning for the immediate and distant future demands careful resource allocation of supplementary federal funds. It isn't too late to embrace an online integrated platform that could help demonstrate and track that alignment collaboratively and efficiently. Partners such as SPOL specialize in providing customizable cloud-based platforms that meet your institution where you are. If you'd like to learn how SPOL can pivot your institution's planning and budgeting efforts, reach out to us today for informed conversation catered to your specific needs and goals.